JOIN OUR FAMILY
The power of a Trust is in its control. Without it, beneficiaries risk losing their government benefits, spending all their money, or worse, being taken advantage of by friends or loved ones, even when they have the purest intentions. From the moment a beneficiary, or their guardian, opens an account with us, they'll join our family. It's at this moment the beneficiary's best interest becomes our priority. From small to medium payouts, for bills and shopping, to large payouts, for cars and houses, beneficiaries will enjoy an individualized experience.
We collaborate with grantors, beneficiaries and guardians throughout the nation to oversee and distribute Trust funds to beneficiaries to enhance their quality of life. As an experienced trustee, we can accommodate funds of all sizes, while still addressing each beneficiary's unique needs. Whether you're considering a Pooled Special Needs Trust, a Pooled Minors Trust, a Pooled Preservation Trust, or a Pooled Support Trust – you'll find our professional trust administration services to be a great option.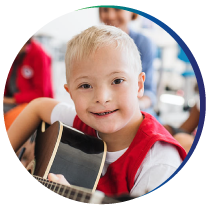 Special Needs Trust
MAINTAIN GOVERNMENT BENEFITS
Support for children and adults with disabilities, ensuring needs-based government benefit eligibility.